ISG Provider Lens™ Report 2023
RIEDEL Networks was identified as a Leader in the ISG Provider Lens™ assessment for Network – Software Defined Solutions and Services in Managed SD-WAN.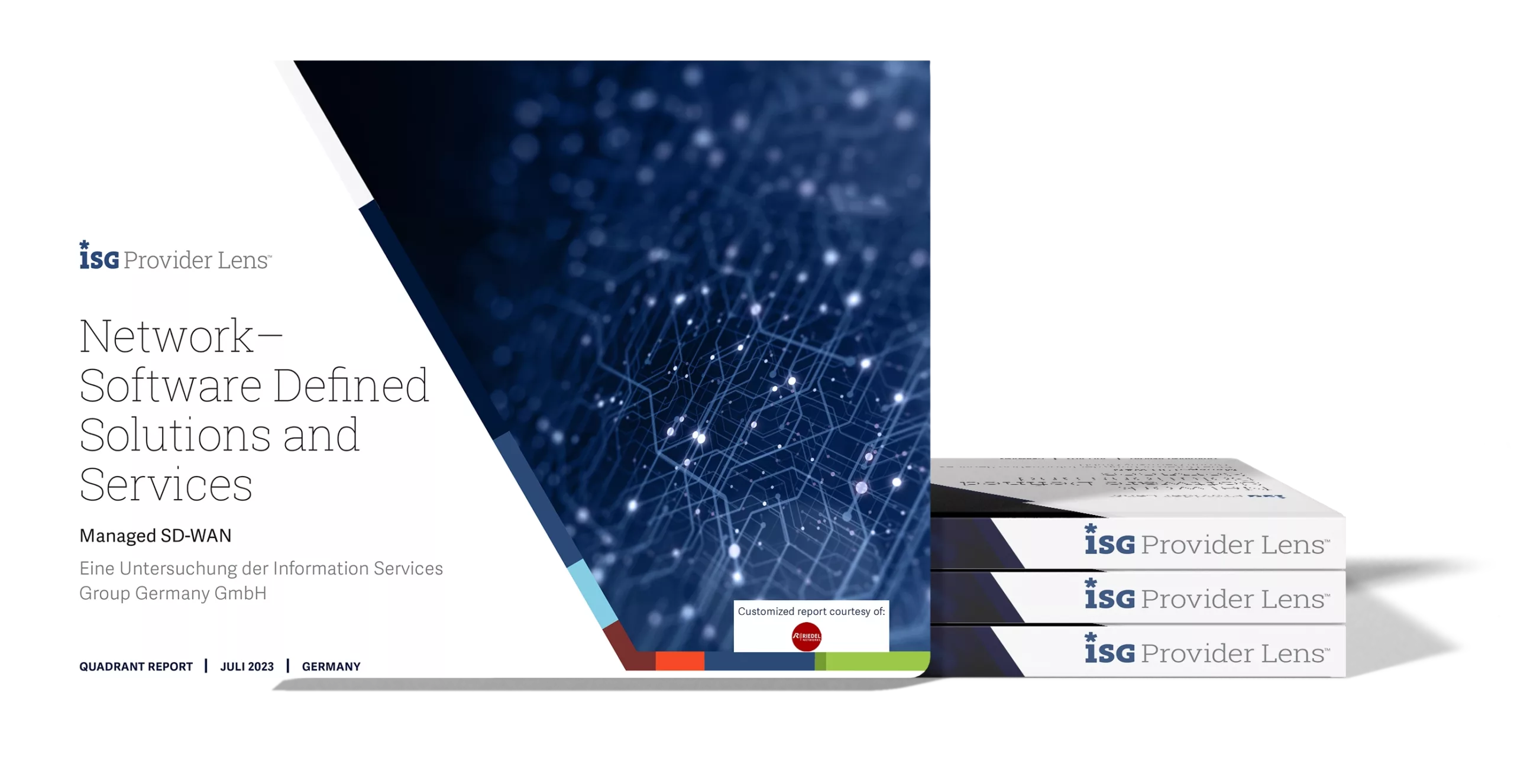 RIEDEL Networks positioned as market leader!
WE ARE INCREDIBLY PROUD TO HAVE BEEN AWARDED FOR THE 8TH TIME IN A ROW!
Riedel Networks is pleased to be positioned again as a Leader in the ISG Provider Lens™ for Network – Software Defined Solutions and Services in Managed SD-WAN. A report that provides actionable, objective insights to companies, leaders and their teams.
Riedel Networks delivers advanced managed SD-WAN solutions based on deep expertise using single-vendor innovative solution stacks."
Dr Kenn D Walters, Distinguished Lead Analyst ISG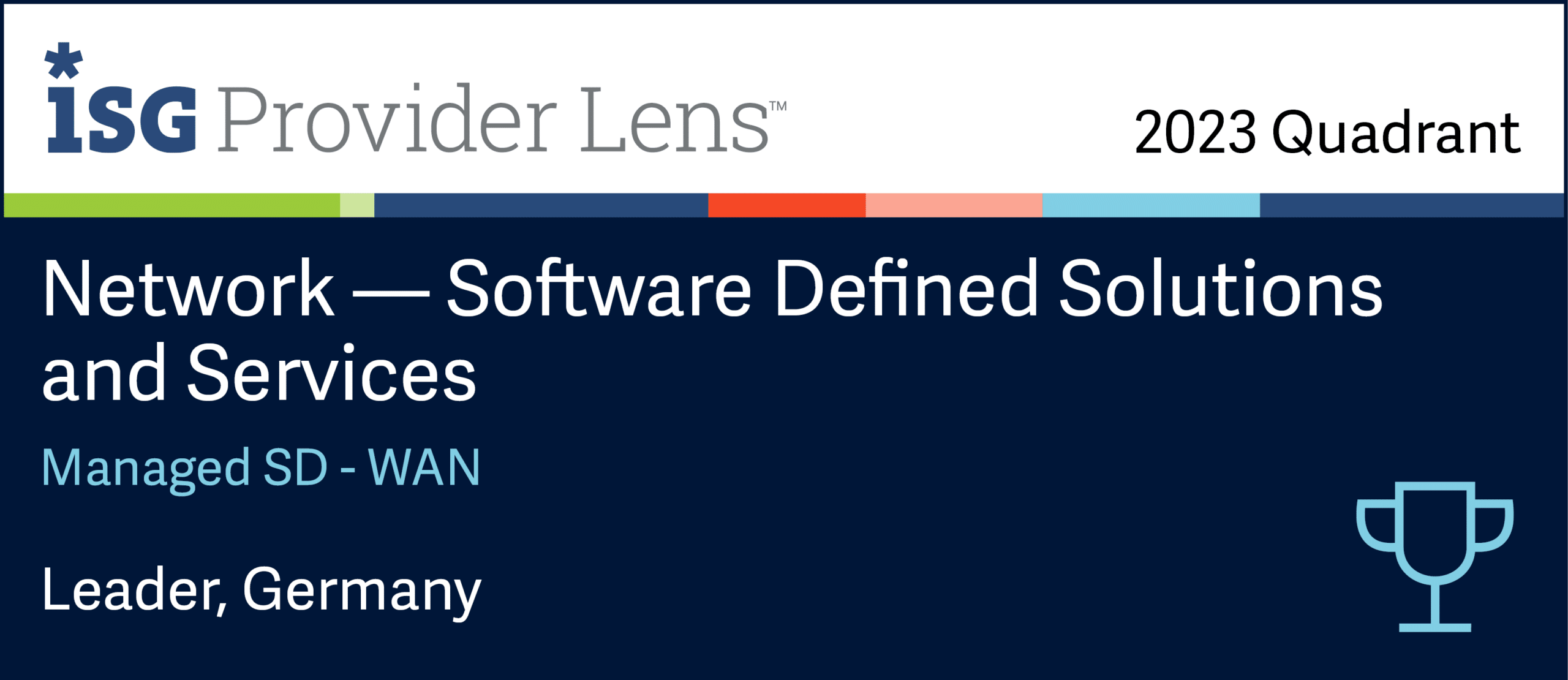 We are honored by the recognition Riedel Networks has received in the network services industry. The following strengths were highlighted in particular:
Secure networks at the core:


Riedel Networks uses the centralized vManage console to deploy the most appropriate security controls. These include application-aware, enterprise-grade firewalls, URL filtering, Snort IPS, advanced malware protection (AMP) for networks and Umbrella DNS-layer security.

The vendor-implemented SD-WAN management systems, vManage and vAnalytics, provide insight into performance and status per application and site, as well as traffic forecasting to plan future bandwidth needs.

Customer-centric network transformation:

Riedel Networks has mapped its architecture to enable the transformation to SD-WAN services and easily deploy and manage them. It provides advanced solutions according to customer needs based on Cisco's SD-WAN and its own global backbone and PoPs. The company is increasingly adding services to its extensive portfolio for larger and multinational enterprises.

Mobile network access and monitoring:

Riedel Networks applies access and security on the mobile edge with an application for smartphones and tablets to allow clients to see their corporate network online at any time.
"We believe this recognition validates Riedel Networks' continued development, strong product vision and focus on the international mid-market," said Michael Martens, CEO of RIEDEL Networks. "We believe this recognition is further evidence of our vision to become one of the world's most recognized network providers by aligning networks and network security services with our customers' needs."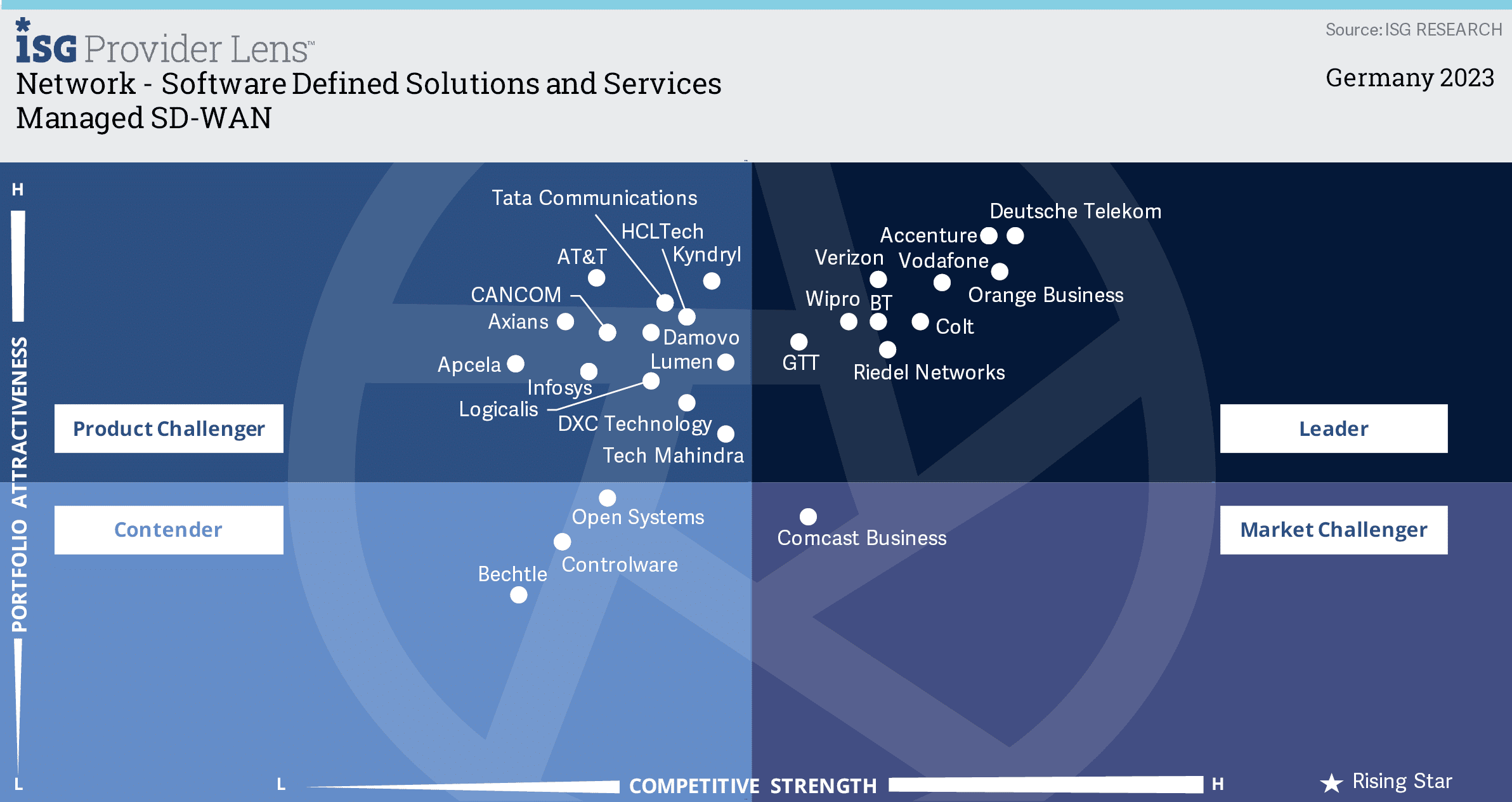 Highlights from the report:
SME SD-WAN market power:
Germany has a strong midsized enterprise market segment, which is rapidly adopting SD-WAN. SMEs have a higher probability of a distributed workforce and will often rely on cloud-based solutions for communication and collaboration. Using lowercost SD-WAN solutions as overlays and access points to the cloud and security providers is fast becoming ubiquitous. However, not all larger SD-WAN providers cater to this market segment in Germany.
SD networks are the foundations for future-proof, cloud-first enterprise networks and advanced security integrations, including full SASE or Security Service Edge(SSE) implementations.
In Germany, some of the primary factors driving rapid changes in enterprise networks include those summarized below.
Increasing flexibility and agility while simplifying management: Enterprises are increasingly focusing on improving the integration, automation, security, orchestration and management of network resources and processes. This has evolved to encompass SD- networking with single-pane-of-glass management and orchestration systems. Reducing risk in cloud and multicloud migrations: Enterprises also are increasingly focusing on migrating their IT and network operations to the cloud. SD networks assist with this by reducing complexities and enabling a reduced-risk migration to single or multicloud environments for enterprises.
We provide the remaining insights as part of the free Downloads of the report is available!
About ISG Provider Lens™ Research
The ISG Provider Lens™ Quadrant research series is the only service provider evaluation of its kind to combine empirical, data-driven research and market analysis with the real-world experience and observations of ISG's global advisory team. Enterprises will find a wealth of detailed data and market analysis to help guide their selection of appropriate sourcing partners, while ISG advisors use the reports to validate their own market knowledge and make recommendations to ISG's enterprise clients. The research currently covers providers offering their services across multiple geographies globally. For more information about ISG Provider Lens research, please visit this website.